Spacious 2,842 sq.ft. townhomes
on 2 levels. Semi finished lower levels
1,380 to 1,415 sq.ft. upper and lower garden apartments
One level Living
Lower level walkouts to patios
9 foot ceilings at lower levels

Attached double garage - townhomes
single garage - garden apartments
(Opener with 2 controls)

Hardwood floors
Slate,Ceramic tile,berber carpet or equal
Choice of 3 interior designer schemes
6 inch baseboards
Kitchen islands with granite counters
6 Energy Star Appliances
Open Floor Plans
Vaulted Ceilings
Oversize windows facing ocean
Entertainment size decks with
Clear Glass Finish
5pce Master Ensuite with soaker tub
4pce Guest Bathroom
Energy efficient gas fireplaces
2-5-10yr Home Warranty
Professional Landscape Plan
Prestigious entrance
An exclusive community of Townhomes and Garden Apartments
on 3 acres of ocean view property
offering a carefree and maintenance free lifestyle.
Nothing can compare for quality & price,
all with an ocean view,
on the Sunshine Coast!
SPECIFICATIONS FOR PHASE 2
Concrete and Reinforcing: As per structural drawings to code.
Framing: As per above and wood truss manufacturer's certified design.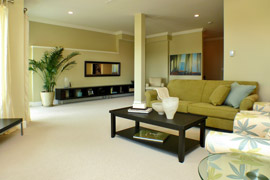 Drainage: In accordance with Municipal Code and Geotechnical Design Requirements
Backfills: Clean Granular approved fill against the buildings.
Roofing: 30-year Duroid.
Gutters: As detailed on architectural drawings.
Fascias & Soffits: As detailed on architectural drawings. 1" x 8", 1" x 10" fascias and perforated vinyl soffits.
Windows & Patio Doors: Double glazed vinyl, with exterior wood trim surrounds;
south-facing windows to have Low "E" exterior panes.
Interior Doors: 1-3/8" solid core paint grade heritage doors or equal with Weiser, Schlage or
Taymor residential line hardware. Hollow core or mirror bi-fold closet doors.
Insulation: To code; 5/8" fireguard drywall both sides of party walls.
Exterior Masonry: As shown on the architectural drawings. Real stone will be utilized.
Exterior Siding: Low maintenance hardy board plank siding.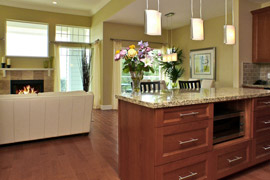 Heating System: Low energy furnace and distribution as shown on the mechanical drawings.
Plumbing Fixtures: Upper end quality, Contemporary styling. Undermount kitchen sink.
Electrical: To code and in accordance with interior design layout.
Kitchen Cabinets: Solid wood maple or equal, European shaker-style. Melamine or wood drawer construction.
State-of-the-art Kitchen and Bathroom cabinetry.
Kitchen Counters: Granite.
Appliances: Fridge, Stove, B/I Dishwasher, Microwave, Washer / Dryer. Choice of Stainless Steel, Black or White.
Bathrooms: Ceramic tile floor and ceramic tile surround to tub and shower.
Bathroom Vanities: Cabinetry as kitchen, counters Formica or Arborite.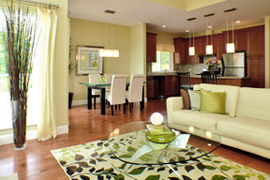 Specialties:

Mirrors, bathroom accessories, closet rails and shelves.

Shower enclosure and door where shown.

Tumbled marble or equal kitchen backsplash

Gas fireplace as detailed with all venting to code

Wood Mantle and tile or slate surround.

Roughed-in, built-in vacuum system.
Finish Carpentry: Wood interior sills, 6" wood baseboards and 3" wood door casing throughout. Crown moulding to entry, master bedroom and living/dining rooms where not vaulted.
Flooring: Ceramic tile in laundry and bathrooms. Good quality carpet in bedrooms, slate front entry. Oak or maple, pre-finished or site finished hardwood in kitchen, family room, living and dining areas; carpet to stairs. Berber carpet or equal to lower level.
Drywall: ½" throughout including lower level. 5/8" fireguard to party walls. 1/2" denshield to showers.
Painting: 3 coats throughout interior; 2 coats on pre-primed hardy board siding exterior.
Exterior Decks: Heavy-duty vinyl flooring. Tempered glazed perimeter railing with
pre-finished baked enamel aluminum framing.
Exterior Concrete: 4" brushed amd edged concrete patios and sidewalks as detailed on the architectural drawings.
Garage Door: Insulated vinyl faced, no glazing, with heavy-duty motor and 2 Remote Genies per unit.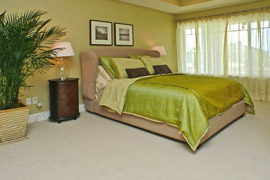 The lower floor areas, other than where shown as fully finished on the plans,
will be built to the following specifications: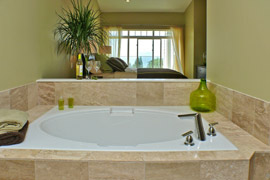 Prime painted drywall throughout

Potlights

Plumbing rough-in'

Carpet, other than bathrooms, mechanical rooms and storage areas.

Solid core door to furnace room.
OPTIONS AVAILABLE:
1.Finishing Package for the lower level of townhomes including the
following:

One finished bathroom

Finished electrical installation

Ceramic flooring to bathroom

Doors, moldings and finish hardware

Wood baseboards

Two additional coats of paint, choice of onecolour

Finished closets with rail and shelf

Gas fireplace with wood mantle and slate surround or equal.
2.Finishing package for townhomes constructed in accordance with the show
home and including all items in 1. finishing package above plus the
following:

Vac-pan in kitchen connected to vacuum system

Hard-wired alarm system up and down

Limestone facing to upper and lower fireplaces

Limestone to floor and tub and shower enclosures of upper ensuite and guest bathrooms

Choice of cherry or other standard wood cabinetry with crown mouldings, etc.

Choice of carpet or standard hardwood to lower floor Rec. Room and bedroom

Granite counter tops in bathrooms

Undermount sink and basins
Ask Sales and Marketing for Details.